CARING FOR YOUR HUGRUG

Traps up to 95% of dust, wet mud and dirt – The special cotton fibres soak up moisture which reduces any slip hazards from wet floors and gets deep into the tread of shoes and paws, so protecting carpets and floors and reducing cleaning. They are easy to clean and become more absorbent with each wash.
Only wash the Hug Rug when necessary.
New Hug Rugs may shed excess cotton, this is normal and will stop once it has been brushed a few times or washed.
To save water – allow mud and dirt to dry and then simply vacuum it away.
To give the rug a longer life place it in a cotton pillow case, wash in cold water or below 86°F with mild washing detergent.
Excess cotton may arise in filter – so check filter on washing machine regularly.
DO NOT USE biological washing detergent as this may fade the colour.
DO NOT USE fabric conditioner or dryer sheets as this will reduce the effectiveness of the rug.
Flat or line dry naturally. The Hug Rug can be tumble dried on a cool setting for 10 minutes to plush the pile – this is optional.
Never place a Hug Rug on a damp floor.
Never place Hug Rug in tumble dryer on high heat setting for long period of time.
As with any soft furnishings – if left in direct sunlight the colour will fade.

Ours mats are designed not to leave marks, however a combination of cleaning products, sunlight & heat may effect and / or cause discolouration to certain types of flooring when covered. We would advise you to please lift the mat frequently to allow the floor under the mat to be cleaned and aired. Our backing is a natural based product free from vinyl & PVC. For specialist flooring please check with the manufacturer before using any rubber backed mats.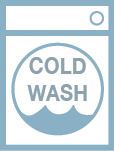 We are so convinced you will love HugRug we are giving them a 5 year guarantee against manufacturing defects.